Leadership Choices Academy
The Leadership Choices Academy offers solutions to help leaders and their organisations build stronger resilience. Over the last decade, our thought-leadership in the field of resilience resulted in:
Books, articles and podcasts to share our insights.

The Resilience Roadmap, a scientifically validated assessment tool that helps leaders develop resilience systematically.

Scalable digital Resilience Journeys that help build a deeper understanding for the topic and can deliver tangible positive impact in your organization.

Executive programs that combine the substance of our understanding with our heritage as a premier Executive Coaching company.
Our customers include leading companies across a wide range of industries.
SEE - SHAPE - SHARE
The products of our Academy are categorized into three sections: SEE, SHAPE and SHARE, enabling you to easily identify the solution that aligns with your interests.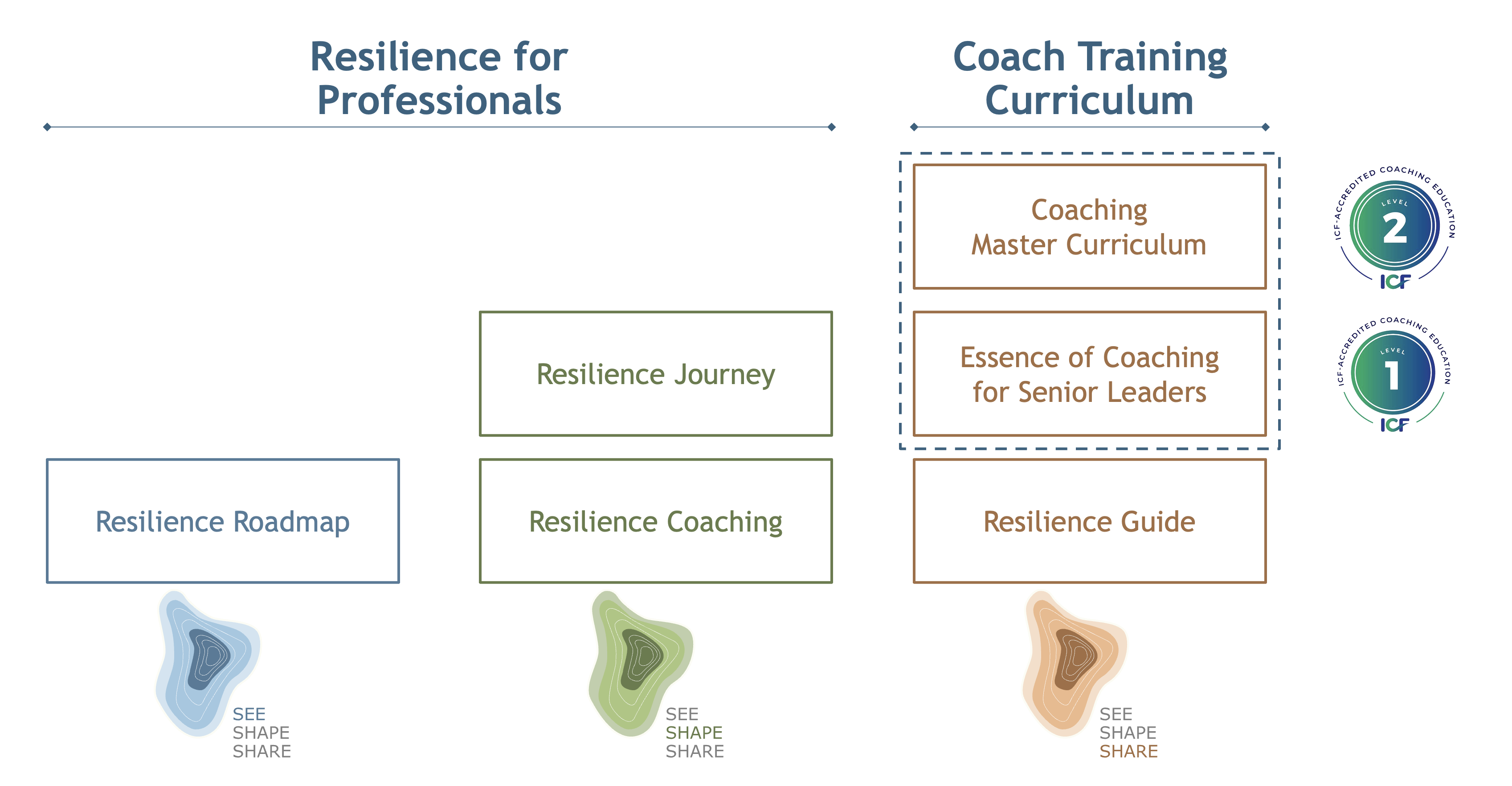 SEE
In the SEE category, you will find the Resilience Roadmap, a product designed for systematically analyzing your resilience levels. It is particularly well-suited for gaining a profound understanding of your self-management.
SHAPE
Within the SHAPE category, you have access to the Resilience Journey and Resilience Coaching. Both programs focus on optimizing resilience through professional guidance. Utilize the Resilience Journey to learn with and from other leaders, enhancing your resilience. Alternatively, engage in individual Resilience Coaching with a coach to develop your strategy for increased resilience.
SHARE
Within the SHARE category, we provide you with the opportunity to support others in their development. The Resilience Guide training equips you to lead individuals in your environment toward improved resilience. Through our Essence of Coaching for Senior Leaders program, you will acquire fundamental coaching skills to enhance your leadership style. Additionally, this program includes a Level 1 certification from the International Coaching Federation (ICF), conferring upon you the status of an official Associate Certified Coach. In the Coaching Master Curriculum, you will gain extensive knowledge in resilience, transformation, and leadership coaching. This comprehensive coaching education culminates in a Level 2 certification as a Professional Certified Coach from the ICF.
Are you ready to take the next step in your personal development? Join the Leadership Choices Academy and benefit from our network and expertise.
LC Events
Additional opportunities for personal development include